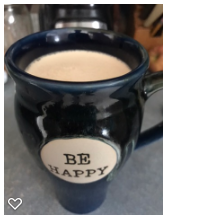 I first discovered Bulletproof coffee at a friends house. I honestly thought she was crazy. Why blend stuff into your coffee? Wouldn't it get cold? And eww coconut oil in coffee, that just didn't seem right. I am a good sport about trying things, so when she offered me a sip I cautiously took one; and decided it was ok. At that point my coffee needed to my sickly sweet. It wasn't horrible. But wasn't as sweet as I preferred. Speed up one Whole30 diet later and that is all I drink when home and when camping with electric. Oh yes, I do haul my blender camping if we are on a site with electric. Crazy? Sure. But don't get between me and my coffee. I take it very seriously.
A Whole30 version is just some coconut oil (1/2 tsp per cup) and possibly cinnamon, cocoa powder, maybe both? Put the coconut oil in the blender with a cup of coffee and blend until frothy.
My current daily version is this, besides an unmeasured mess, approx:
1/2 tsp cocoa powder,
a big scoop of honey with a regular spoon,
2 tbsp butter.
I then pour 4 cups of coffee into the blender, while pouring it in I put my honeyed spoon in the coffee to "wash off" the honey coating it. Put the lid on that bad boy and turn it on. I blend until I no longer see butter chunks spinning around. 
This is generally enough of those magic beans to wake me up and get me going in the morning. Most mornings I spend some quality time reading my Bible while drinking my coffee and it is one of my most treasured times of the day.