This blog post contains affiliate links, which means, if you happen to make a purchase following my links. I may earn a small commission from the sale, however, there is no cost to you. I only link products that I use, or are very familiar with.
Ranch is my families most favorite salad dressing. My oldest, Caleb, loves it on most everything. My husband is fairly picky on his ranch dressing because he has his favored brands. So, when it came time to making a homemade ranch there were a few skeptics in the house.
I tried a few different recipes, loved part of each, but wasn't quite satisfied with any. So, I did what I do with most recipes and took my favorite parts and made it my own.
This Ranch is called a dump ranch because you "dump" the ingredients into a jar and blend with an immersion blender. Quick and easy right? That is how I like my recipes. If the kids cannot be taught how to make it, then its too complicated.
For the ranch dressing I find it is easiest to make in a wide mouth pint and a half jar. As a side note: that size jar is my personal favorite to use for drinking glasses as well.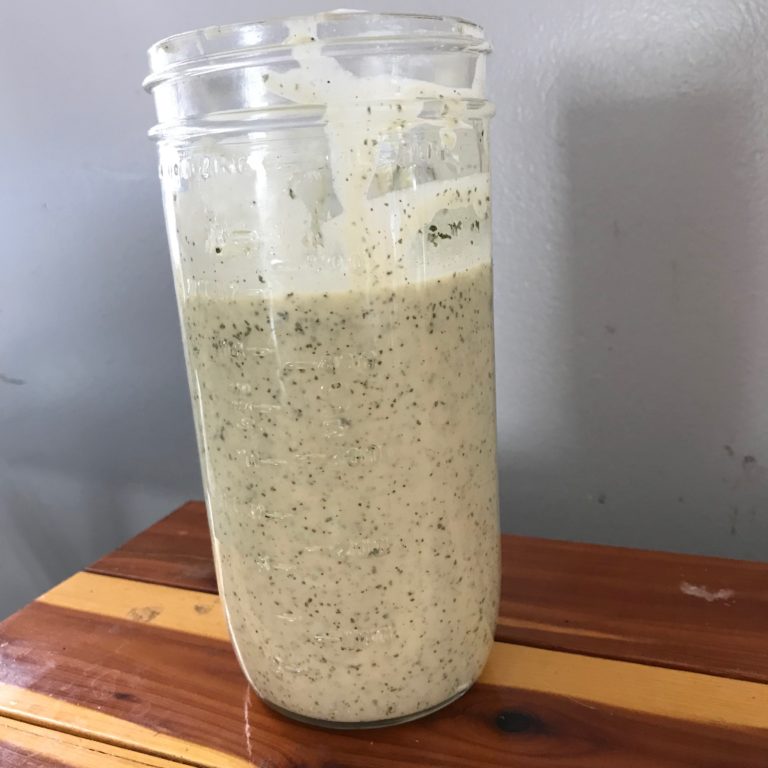 | | |
| --- | --- |
| | |
I put all the ingredients, first to last, EXCEPT the Dried Parsley in a 24oz Wide Mouth Jar.

Then I use my Immersion Blender, starting at the very bottom of the jar, and slowly work my way up to the top of the oil line.

When I have a good emulsion I stop and add in the Dried Parsley and swirl that into the dressing. Enjoy!